Sentinel Storage - Whitecourt
3364 34th Avenue, Whitecourt, AB
1st Month Free & 30% OFF indoor winter car storage
Photos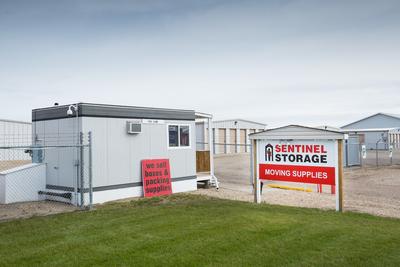 Hours
Office Hours

| | |
| --- | --- |
| Tues-Sat | 9am to 5pm |
| Sun | Closed |
| Mon | Closed |
Access Hours

| | |
| --- | --- |
| Daily | 6am to 11pm |
About Sentinel Storage - Whitecourt
Sentinel Storage is one of Canadas most trusted brands in storage. We are committed to offering you the best storage experience possible form the time you first pick up the phone to the moment your belongings are safe and secure in any of our excellent storage facilities. We pride ourselves on our unparalleled customer service, well lit, clean and secure storage units and ongoing promotions to help make things a little easier.
Current Promotions:

Free Moving-in Van
First 4 weeks FREE
Student Special - 50% OFF
1st 4 weeks * subject to availability
* Offers may not be combined and are based on availability
Features
Drive-up Access
24/7 Security Monitoring
Packing Supplies
Payment Options
Vehicle Storage
Hours
Office Hours

| | |
| --- | --- |
| Tues-Sat | 9am to 5pm |
| Sun | Closed |
| Mon | Closed |
Access Hours

| | |
| --- | --- |
| Daily | 6am to 11pm |
Facility Reviews
---
The Ladies That Run This Location In Whitecourt, AB... ARE.. Phenomenal, pleasant, genuine.. and dedicated to helping and serving in any way they can. Always a great experience when dealing with them.. They Get an A+++!!! 👍⭐⭐⭐⭐⭐👌 HOWEVER.. Everyone and their 🐕 Dog.. Are using "Inflation, Inflation.. Ermmm Inflation!!!" To up pricing beyond the rate of said Inflation and using it as excuse not to trim their own fat, so to speak.. but to GOUGE out their customers and subscribers more then they definitely need to, or SHOULD!!! ..AND... ANY, business.. *(Sentinel is definitely one of them!) Doing this, should be outright ashamed of themselves. But they won't be.. they'll rake in scads more money off the backs of ordinary, low to middle income people. While upper management and owners.. Rejoice, that they had the cover to do so.. so badly, sooo much... cause.. er.. ermmm... "Inflation!" 🙄🤮
---
Expensive, my rates have increased by 50% over two years. Not worth the cost for zero temperature control, and questionable security. I would recommend looking elsewhere for your storage needs. Staff is top notch though, Crystal is a lovley person, and will try her hardest to make things work for you, but awesome staff doesn't make up for the shortcomings of the business model.
---
The staff at the storage location are fantastic. Very friendly and accommodating. The facility is clean and well set up. Beware online/phone booking. I was told by two different agents that they had (smaller) 5 x 5 units and that I would be put on the wait list to move into one. When I arrived at location, I found out that they don't even have that size of storage there! It was clear that the salesman on phone was pushing me through to make the sale.
---
The units were very clean. The staff was very helpful when I needed to get in. I really injoy going there. There is always a reminder for when the next payment is due which is really helpful for me. Great job the girls of Whitecourt Alberta. Thanks for all your help. I will recommend your storage if anyone is asking.
---
Customer service friendly and always helpful and understanding you guys are great